Horizontal and Vertical Form Fill Seal Knives
Precision-ground toothform knives for the FFS machine packaging sector
Fernite manufactures form fill seal knives for various markets: food, drinks, tobacco, pet food, chemical, medical, and pharmaceutical. We supply vertical and horizontal form-fill-seal knives to meet your exact bagging, heat sealing, and packaging requirements.
Due to their precision tooth forms our serrated tooth knives can cut all types of materials. For example, these knives can proceed cutting tape, bubble-wrap, and any kind of film packaging. Also, they are used in heavy duty plastic packaging.
We manufacture form fill seal knives using only the finest steels:
high alloy steels
plain carbon steel
high carbon high chrome steels
HSS
tungsten carbide
We can coat FFS knives with Tin or Teflon coating. 
By doing this we considerably improve wear resistance and prevent adhering.
We can customise your FFS with tear notch knives.
Our advanced technology enables us to combine a huge variety of tooth profiles and pitches to form tear notches that perform clean cut and easy-to-open tear notch.
We supply customers all around the world with knives compatible with main packaging machines, including Bosch, Rovema, Sandiacre, and Ishida. Popular Rovema Knives are used across the world in form fill seal applications, while Sandiacre knives are used for bagging, heat seal, and other packaging machines.
We feel reassured by every aspect of knives we sell that you would be pleased with the performance of our product! With decades of experience, our professional and friendly team is ready to work with you. Fernite is the manufacturer of choice for the world's leading packaging companies.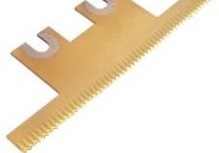 Contact us with your enquiry
Highest quality Form Fill Seal knives from an ISO9001 manufacturer
We never compromise on quality.
Fernite is committed to supplying the highest quality machine knives on the market. We never compromise on the quality of our material or the quality of our craftsmanship.
When you buy from Fernite you can be assured that:
Every blade is manufactured in the UK, at our ISO9001 certified Sheffield factory.

We only utilise high quality, fully traceable European steel.

Every blade is manufactured to your exact specifications.
If you know the type of knife you require, please email us enquiries@fernite.co.uk. To enable us to provide a fast and accurate quote, please give as much information as you can.
If you have a bespoke enquiry, or if you want to discuss your options with a member of our expert team, please call +44 (0)114 244 0527 or email enquiries@fernite.co.uk